Nkabom Festival 2016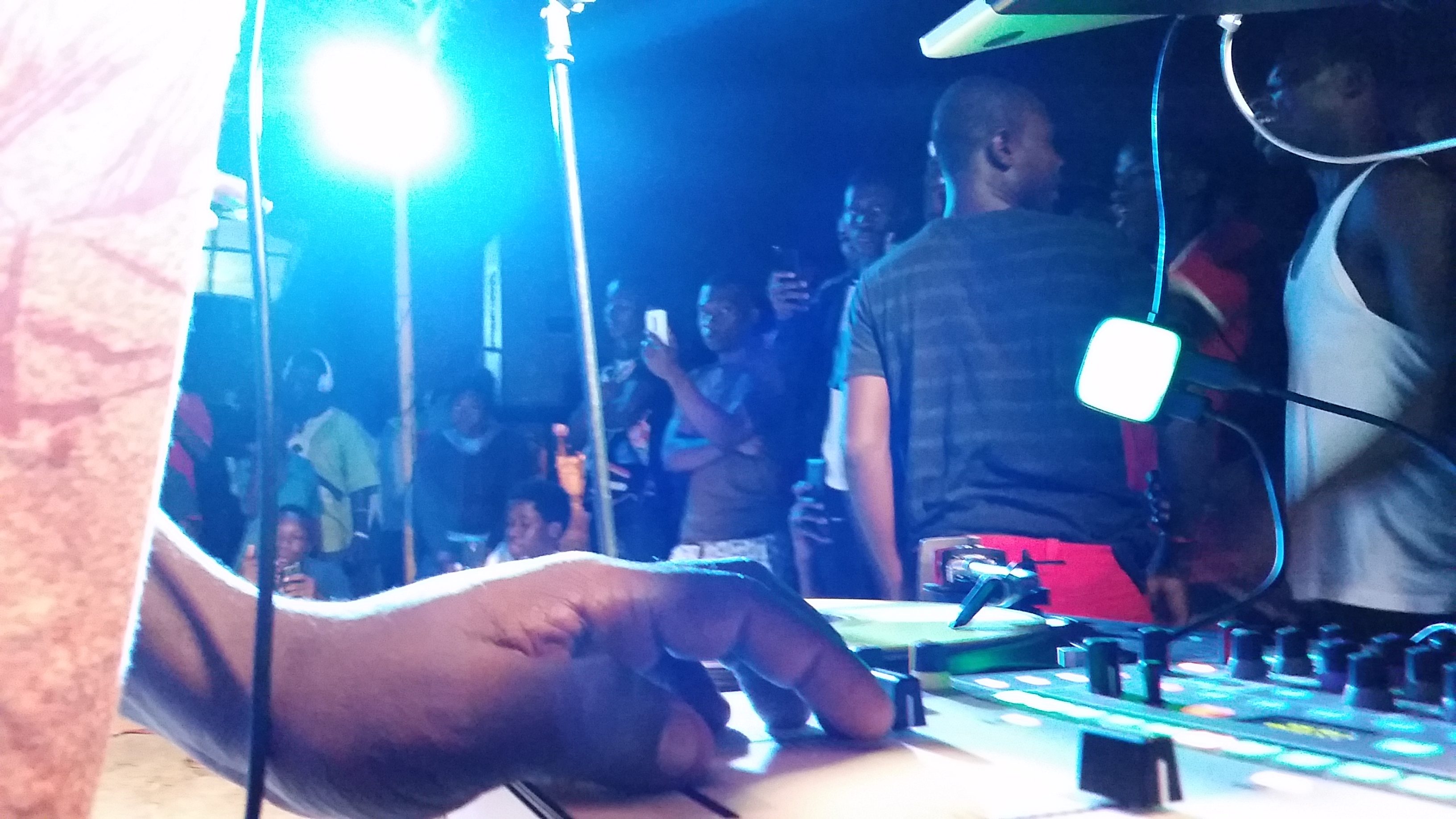 A platform for thought-sharers, dream-filled griots and community-fixated troubadours to navigate alternative paths to carve content that engage people in traditional and non-traditional Ghanaian spaces.
KENTEN SPACES
The theme for #Nkabom2016 is "KENTEN SPACES" – Kenten: means basket(in Akan), which are usually used to carry market goods. The idea negotiates the intrinsic culture of oral folk recitals which sound as if the language is woven, just like baskets. In the same vein we convey ancestral epistles, indigenous codes, fonts and languages to the new phase of technology-influenced spaces like the Interweb. We focus on mapping marginalized thoughts, subjects and philosophies from indigenous socialscapes.
We explore and relearn our culture and how it goes to influence other cultures, promote engagement to build strong and diverse communities to serve as a template for our curricular, social space shaping, educative interactions, African tech-knowledge media, etc.
We restore the concrete cultural edification and strengthen the thriving unique voices to expand choices, to nurture a variety of skills, human values and world views to be in tune with what surrounds us in this dynamic world to engage audiences and ourselves with trans-informational concepts through written, spoken, typed, rapped or otherwise alternative arts.
This slideshow requires JavaScript.
NKABOM LITERARY FESTIVAL 2016 SCHED
We bring you the first ever contemporary Ghanaian literary festival pooling young and culminated word crocheters who use ink, voice, music or mixed media to share stories that connect histories, consummate the present to rediscover the future.
DATES
August 13th Nubuke Foundation, behind Mensvic Hotel, East Legon
10am(registration)- 10:30am(starts) to 3pm – Writing + Alternative Publishing Workshop with Mariska Darko & Efo Dela,
2pm-4pm Photosentences Workshop (Make Poetry to Street Photography) with Fotombo
11am-3pm Paperbag Paint + Words Workshop with Betty Stuemer & Musa Swallah
4pm-6pm Music Set – DJ Vimtinz
6pm-7pm – Reading with Martin Egblewogbe. Hosted by Andy – 6:45-7pm (Q & A)
7:30pm-9:30pm Storytelling Set ft Sir Black. Hosted by Andy
[FREE. Storytelling Set – ghc10]
August 14th Abelemkpe Taxi Rank
5pm till Late – Free Show (Music Installation + Lyric Projection) – Benjamin Lebrave, DJ VimTinz
7-8pm Reading by poets, lyricists, performers + Open Mic
[FREE]
August 15th Hope for Life, Gbawe
Persons With Special Abilities (Writing/Reading Workshop with Persons with Disabilities) 10am-2pm
[FREE. Donations welcome]
August 16th SRC Union Hall, University of Ghana, Legon
3-4:50pm – Literary Empowerment Workshop with University Students
by VOCAL(Canada) – Anthony Bansfield, Dwayne Morgan, Edmond David, Motion, Osei Alleyne & DJ Elloquenz
4:50-5pm – Short Break
5-5:30pm – Fokn Talk with Wanlov the Kubolor
5:30-6pm – Importing Ghanaians Talk with Alba K. Sumprim
6pm>> – Networking
[FREE]
August 17th The Republic Bar, Osu
8-12midnight – Vocal Portraits Live III
with VOCAL from Canada (Anthony Bansfield, Dwayne Morgan, Edmond David, Motion, Osei Alleyne & DJ Elloquenz), Surprise acts from Vocal Portraits 3 – https://soundcloud.com/vocalportraits
Feature: Elom 20ce (Renowned Rapper/Contemporary Griot from Togo)
[Rate- ghc10]
The Northern Griots Network (NGN)
NGN is a collective of Canadian spoken word artists that networks spoken word poets and presenters. They also connect spoken word artists internationally to stimulate artistic growth, increase opportunities for spoken word worldwide, and support social engagement and advancement. VOCAL's visit to Ghana is coordinated by the NGN, and supported by the Canada Council for the Arts. For more information, contact Anthony Bansfield atnthdigri@gmail.com
VOCAL Canadian Spoken Word Poets Visit Ghana for Arts Festivals in August 2016
The Northern Griots Network and Inkfluent are proud to announce the visit by the VOCAL team of Canadian spoken word poets to Accra, Ghana for the Nkabom Literary Festival (Aug. 14-17) and Chale Wote Street Art Festival (Aug. 18-21).
The visit represents a groundbreaking collaboration for the spoken word community in both Ghana and Canada. The VOCAL team includes leading figures in the Canadian spoken word movement, with backgrounds in Barbados, Trinidad, Guyana, Antigua, and Jamaica.
VOCAL stands for "Voices of Canadian Artists Linked," and is the first Canadian-African collaboration in an NGN series of exchanges since 2013 that include initiatives in Jamaica (Jamaican Poetry Festival, August, 14th, 2016), Trinidad and Tobago (Cascadoo Festival, 2014), and Canada (South-North Griots Summit in Toronto, 2015). Along with a performance of the hit theatre/music piece Oraltorio at Chale Wote on Aug.21, and a Spoken Word feature at Inkfluent's Vocal Portraits show on Aug. 17, the visiting artists will deliver an Aug. 16 workshop at University of Ghana, and meet Ghanaian artists for dialogue/networking.
"As artists of Caribbean and African heritage, our team is looking forward to linking with Ghanaian artists and audiences in the spirit of exchange and exploration of contemporary and future currents in African and pan-African culture," – NGN National Coordinator, Anthony Bansfield.
"We are tremendously excited to have these accomplished, internationally celebrated artists visit Ghana, and we see this initiative as the beginning of a fruitful partnership for artists from both nations." – kwame write, Inkfluent
Featured Artists
DJ L'Oqenz: DJ, beatmaker, composer of critically acclaimed 'Theatrical MiXtape,' Oraltorio
Dwayne Morgan: Music Award winning spoken word artist of Jamaican origin, author
Eddy DaOriginalOne: Beatbox poet extraordinaire, poet, and Trinidadian story-teller
Manchilde: Dancehall reggae/hip-hop MC, video artist/videographer/director
Motion: CBC Canadian Slam Champion, award-winning playwright, hip-hop MC
nth digri: Rapso/dub poet, Ottawa Slam Champion, recording artist, spoken word activist
For information on VOCAL: northerngriotsnetwork.com orfacebook.com/southnorthGriots