VOCAL PORTRAITS 
Vocal Portraits is a collection of musico-poetry by young wordsmiths from Accra, Tema, Lome, Cotonou, Ouagadougou and beyond.
VOCAL PORTRAITS 1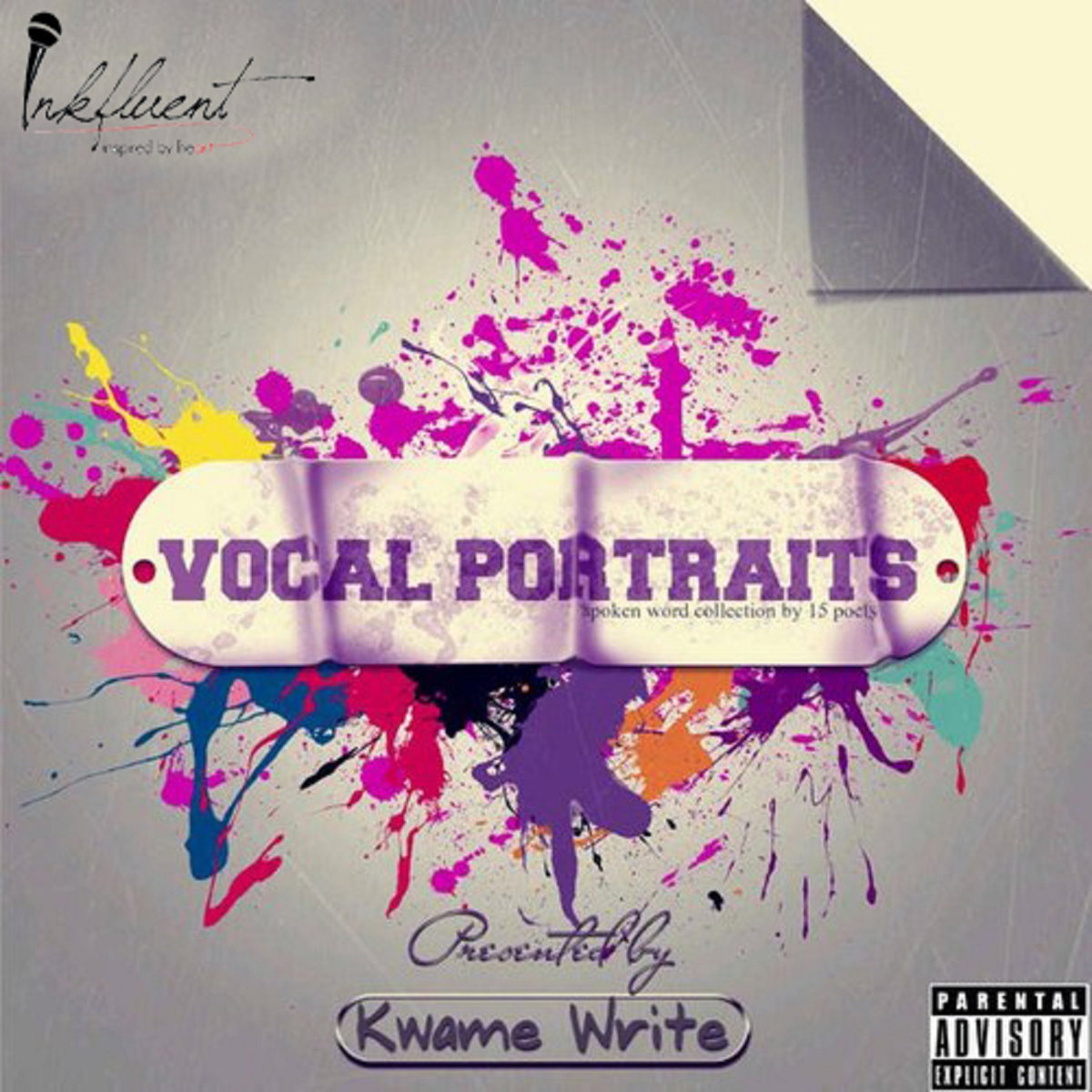 Vocal Portraits 1 underlines a broad range of topics ranging from life, love, peace, inspiration, black consciousness, religion, experience, history, abstractness and social issues. The vocal delivery on the album ranges from recitals to original spoken word and a short fusion of rhythmic rap attached to instrumentals, live guitar or African instruments like the kora and calabash, as well as an a-cappella skit. This first edition features 15 artists.
Featured poets include Chief Moomen, Laud de Poet, Mariska Taylor Darko, Rhymesonny, Kwame Write, Yom_Writer_Poet, Kwaku Rap, Michael Somuah Jesse, Edith Ndabi, Shark Mellon, Tiffany Howard and Jude Edze.
All the recordings were produced by Inkfluent and recorded and compiled by sound engineers; Drumnayshin and Boney at 21 Entertainment Studios in Community 1, Tema.
There were amazing reviews to boot:
"The album never gets boring due to its diversity. There is something for everyone." (http://www.ceditalk.com/2013/04/review-of-vocal-portraits-by-kwame-write.html) – @readjerome
"An attempt at transporting the art of spoken word poetry from the ambience of the stage (or a select few) to a multitude has culminated in the birth of Vocal Portrait-a 20 track album put together by Kwame Write (Kwame Aidoo)…In sum Vocal Portrait is an album worth having by every poetry/ spoken word enthusiasts. The output of featured guests is phenomenal and again the price is just right for such a good work." (http://swayekidd.blogspot.com/2013/03/vocal-portraits.html) – @swayekidd
The marketing of Vocal Portraits 1 has been executed mostly by hand. Out of 2000 copies produced, 1000 were given out for free to those who couldn't afford and 1000 were sold. The money accrued went to support the production of Vocal Portraits 2 and organize an event to promote the featured artists and for the lyrical celebration of the compilation.
Stream or Purchase Vocal Portraits 1 at a self-proposed rate.
VOCAL PORTRAITS 2

Though the journey to Vocal Portraits 2 was a long and tedious one as compared to the production of Vocal Portraits 1, it's so worth the expression of collective passion. The track list:
1. In(true)duction – Kwame Write (prod. Staun&Ko)
2. Afi Biara – Achiebold Acheampong (prod. Boney)
3. Mind Cast – Crystal Tettey + Kanal (prod. Drumnayshin)
4. Trans(mission) – Kwame Write (w/ Iwan Gronert)
5. Mozola – Nii Ayi Solomon (prod. Drumnayshin)
6. Saint Ho'- Poetra Ama Asantewa (prod. Boney)
7. Poe(tree) skit
8. Owanwa – Sedi (prod. Ojigbeready)
9. Eargasm – Afurakan (prod. Leon Erasmus)
10. Stranger – Mizan The Poet (prod. Oscar Lo Brutto, TroyKamal)
11. We No Dey Fear Huu – Jahwi (w/ Ansong, prod. Drumnayshin)
12. Singlehanded – Uniq Sistar (prod. Uniq Sistar)
13. Tema Feeling – Sailor + Eden + Kwame Write (w/ Iwan Gronert)
14. Empty Air – Lauren Goodwin (w/ Yogendra, Ansong, prod. Drumnayshin)
15. My Area Girl – Kodjo Deynoo (w/ Yogendra, Ansong, prod. Drumnayshin)
16. Out(throw)/If Poetry Should Die – Kwame Write (prod. Ojigbeready)
THEORY OF KENTE INTERLOCUTIONS
Kente is the main and currently most popular of the dozens of dazzling textiles that have been made and used by the Ashanti since the foundation of the Ashanti Kingdom. Vocal Portraits 2 makes use of the cultural symbol as a metaphor for the inextricably interwoven aspects of our traditions and livelihoods, similar to the production process of Kente; from the narrow-strip weaving technique.
LOGIC BEHIND THE USE OF ADWINEASA
At some point during the production of Vocal Portraits 2, inspiration seemed far-fetched. Especially with the cover art, it took several industrious attempts by graphic/visual artists to create samples intended to reflect the unique blend of themes that the pieces on the album projected. In the end, Kwame Aidoo picked Adwineasa to represent the template for the cover art and 'Kente Locutions' the sub-title. The point of exhaustion of ideas invited the use of the spectacular kente pattern chosen here: 'adwineasa' which translates to 'ideas are finished' from the Akan language.
On another plane, 'asa' means dance in Akan. Also, pun-wise, Adwineasa may mean 'dance of wisdom' which connotes the deep vocal capering experience of the poetry thereof. Kwame thought these two meanings of Adwineasa would be genuinely applicable.
PRODUCTION
The compilation just like the first volume is a proud production by Inkfluent and most of the pieces were recorded in a small music studio in Tema called 21 Entertainment. Two major sound engineers who put in time, rain or shine are Drumnayshin and Boney. Ghanaian instrumentalists who laid intrinsic melodies as intriguing as kente pattern for the word art include Yogendra(guitarist) and Ansong(flutist). Other sound engineers/instrumentalists who are not present in Ghana but have their quality beats included on the project are Iwan Gronert, Leon Erasmus(South Africa),  Staun&Ko and  Ojigbeready(UK). There's a funny skit called Poe(tree) in the middle of the album, which was written by Kwame Write and recorded by Boney and Sedi.
(Kodjo Deynoo, Kanal, Yogendra, IUB, Lauren, Drumnayshin, Kwame, Ansong, Achiebold. [L to R]. Photo by Jahwi)
FEATURED ARTISTS
Achiebold Acheampong is an orator, traditional mouthpiece, master of ceremonies and poet from Ghana who keeps the thick Akuapim lyricism curling from his tongue like the Mampong ridges where he hails from. His piece 'Afi Biara' meaning every year addresses the continuous promises spread by politicians to citizens when they want their votes ending in deep regret by the latter when their vows do not see daylight. The bell is used in the beginning of the piece as a symbolic metaphor or point of introduction as done in customary practice before a town crier delivers a message.
Crystal Tettey is a young graduate in Political Science and French based in Madagascar. She loves to participate in poetry-slam debates and in her free time she enjoys singing and engages with human rights' issues. At the moment she is an interpreter at Delta Audit. Her poetry slams incorporate problems young Africans are faced with. Crystal collaborates with Kanal; a rapper from Tema who does spoken word for the first time on this hair-raising piece called 'Mind Cast'.
Myself, Inkfluent's very own Kwame Write, executively produced, compiled, directed and featured on this album. I am a poet/spoken word artist, strategic multidisciplinary event manager, freelance writer, blogger and content creator who also works as a co-ordinator of Ehalakasa; Ghana's foremost poetry movement/platform. I feature on the album with the piece: Trans(mission). The poem addresses the power of mass media; a voice in connection with society, its politics and the environment. The intro as well as the outro, also called 'If Poetry Should Die' was written and performed by me.
Nii-Ayi Solomon lives in Accra, Ghana. He believes most of the problems facing our world today can be solved by preaching the message of love. He has performed at several recitals and has been invited to share his rich experience on various platforms. His piece though short is very potent as done in Ewe and called 'mozola' which means 'traveller'.
Poetra Ama Asantewa is an editor, writer, designer, contemplating geek and a reader who usually addresses politics, feminity, societal issues, relationships, sensuality, etc with her poems. Aside spoken word, she founded and manages the Alikoto Clothing company and is the head of an NGO or child support foundation called Love Rocks which has the vision to aid the youth to become active members of their communities. Her piece 'Saint Ho' is a strongly layered verse projecting society's perfunctory perception of womanhood.
(Kwame, Eden, Jahwi, Poetra. [L to R])
The landscape of the literature and vocal art in Ghana has been busy and young budding word artists like Sedi should be looked out for due to their uniqueness. Sedi's use of concentrated metaphors distilled from proverbial sayings inducing humour makes one listen closely throughout. Owanwa , like most of his other pieces is packed with random thoughts pieced together with stimulating similes.
Mizan is a poet, activist and community worker. Check out his blog for  articles, political thoughts mizansblog.com
Viewing his work as a whole, one can see his philosophy in life visualized as a physical manifestation of spiritual journeys and lessons. Jahwi, also called Kwabena Danso, is a multi-ability artist who dabbles in poetry, painting, photography, music, film-making as well as beat-boxing.
Afurakan is the C.E.O. of Word N Sound; a spoken word open mic and slam event platform in South Africa. He is also an Award-winnind TTL copywriter, arts projects manager, poet and curator. He features with the classic piece 'Eargasm'.
Uniq Sistar is a spoken word artist, radio DJ on Radio King UK and a music producer as well as a wannabe bassist. She singlehandedly wrote, recorded and produced the confessional piece 'Singlehanded' which hits on marital issues of a young lady.
The Inkfluent team met Sailor and Eden a few months ago in Accra doing short videos on random concepts and filming a documentary as well as volunteering in theatre performances for Bibie Brew's New Morning Arts Cafe in Accra. As the saying goes; 'like minds connect'. We found out that we shared similar ideas and could work together effortlessly. Sailor and Eden featured Kwame Write on this track called; 'Tema Feeling'. The piece was inspired after a ride through different parts of Tema where the artists interacted with random people and shared food, drinks and stories. It was written and recorded the same day.
Lauren Goodwin started Purple loves Blue (purplelovesblue.org) as a movement about spreading love and prosperity through the beauty of art and art appreciation: the importance of what art brings into the world amidst all of the commotion and corruption, selfishness and struggle to survive, hate and war, intolerance and exclusion, poverty and strife, inhumanity and the overall burdens of what it means to be a human being. She is an installation artist working on a project in Have, Volta Region in Ghana to leg up a recreational centre for kids. She's also a talented poet at heart and painter. On Vocal Portraits 2, she performs the piece 'Empty Air' with Yogendra and Ansong on their instruments.
Kodjo Deynoo grew up in Dansoman, and then moved to St. Johns near Achimota. He left Ghana in his early twenties and was living in the UK. After he completed an MSc in construction project management, he worked with an interior fit out Construction Company in Bristol, UK. He's now settled in Ghana and has set up a Fire Health Safety company called Dey Innovations. He sees himself as more of a Dansoman guy, as he spent his first decade there. Kodjo Deynoo features on Vocal Portraits 2 with a love piece called 'My Area Girl.'
Kudos to all the featured artists on Vocal Portraits 2! We look forward to working with you again in the near future to build the poetry and spoken word artistry and functionality in our system as a continent and universe.
Stream or Purchase Vocal Portraits 2 at a self-proposed rate.
VOCAL PORTRAITS 3
The 3rd collection of Vocal Portraits brought together word artists and musicians of diverse cultures and experiences. The pieces are layered with scores of entrancing music like the previous LPs.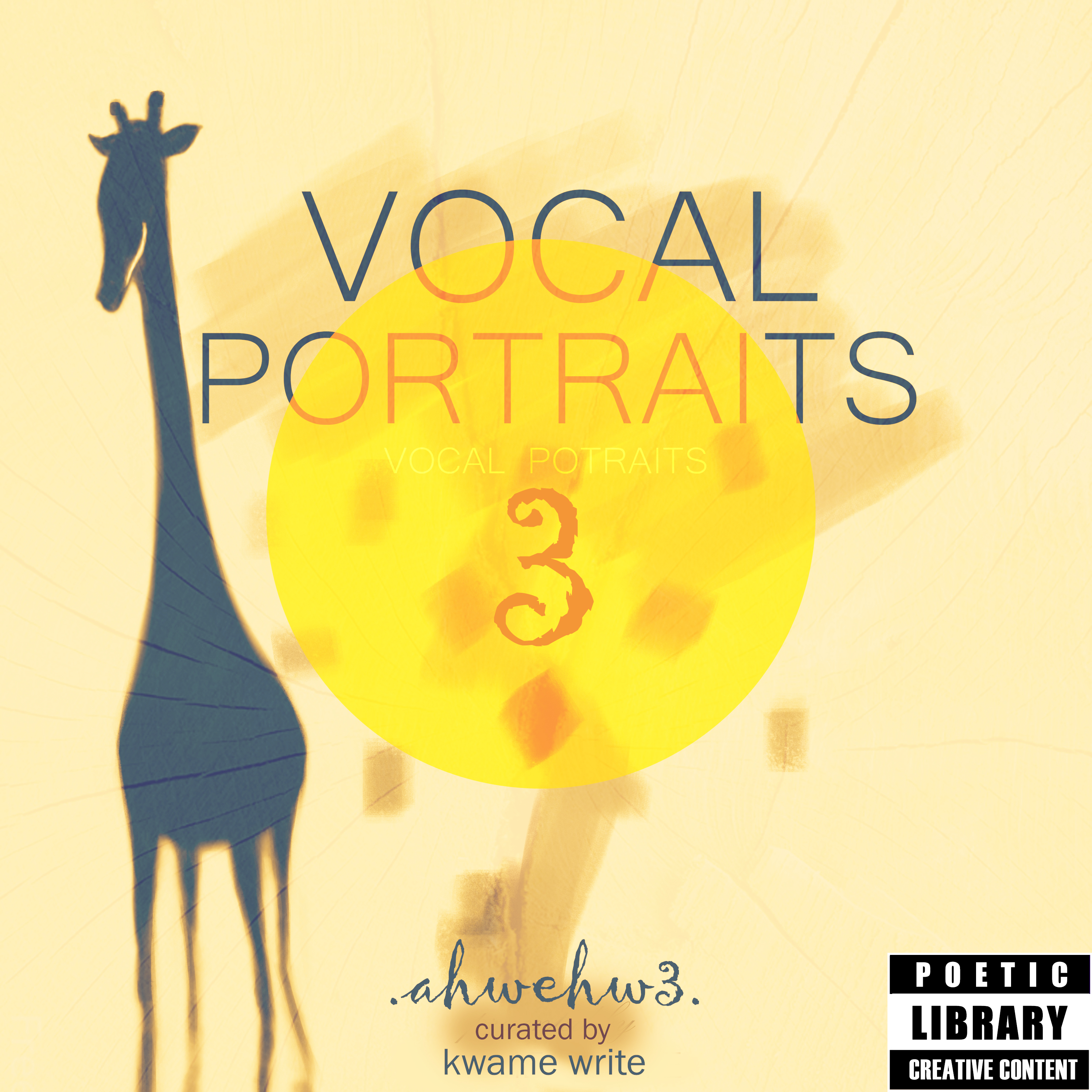 Stream or Purchase Vocal Portraits 3 at a self-proposed rate.
"Words mean more than what is set down on paper. It takes the human voice to infuse them with deeper meaning." – Maya Angelou