Nkabom Literary Art Festival is a multidisciplinary arts festival with literary art (all languages) at its core, and is committed to sustaining vibrant and (in)accessible artistic communities. Nkabom produces and presents ideologies of pan-African solidarity with Africa and its diaspora and endorses inclusive, provocative, moving, educative and entertaining performances, exhibits, installations, talks and workshops.
In our 3rd year, we are expanding into a 5 day festival and activating two cities in two neighbouring countries- Accra, Ghana and Lomé, Togo. We are now calling on writers, social influencers and artists for Nkabom 2018,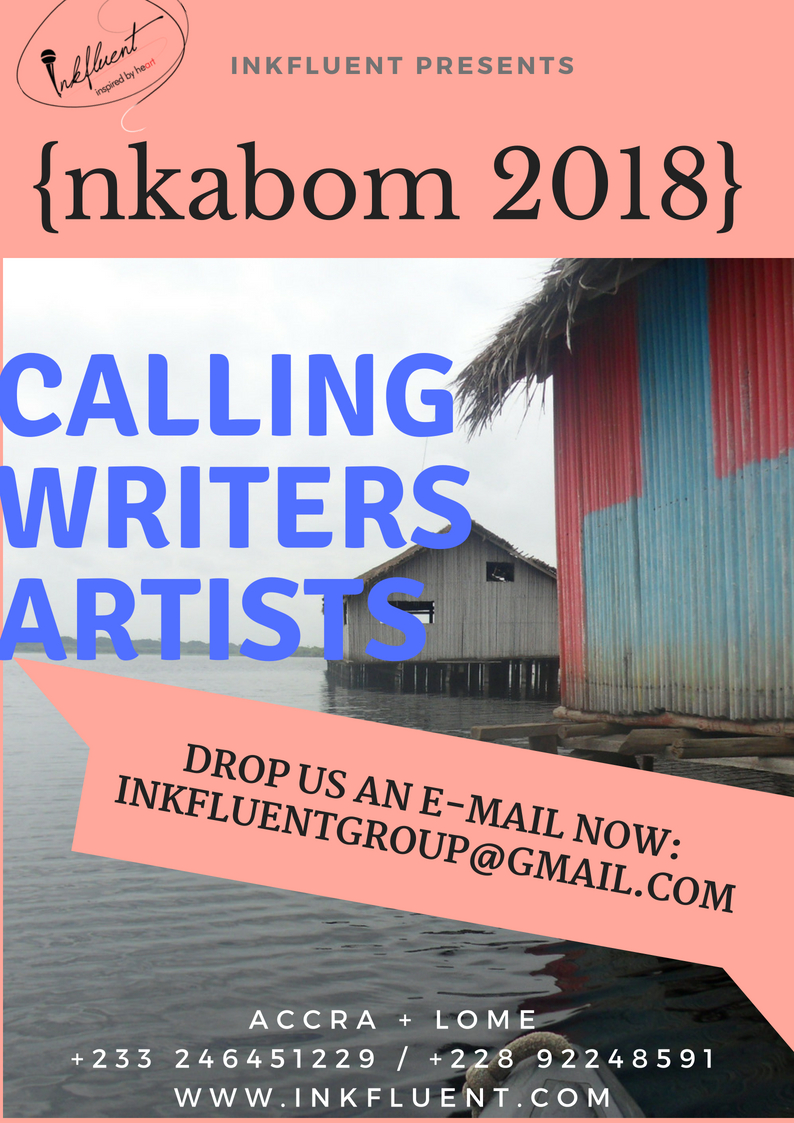 This could be single writers, performers or artists or groups of: writers, authors, illustrators, musicians, bands, dancers, photographers, film makers, designers, performance artists, word artists, poets, coders, guest curators, fashion crafters, sound artists, graffiti artists…or surprise us with your classical, traditional, modern or contemporary skills! For performance groups, at least one woman must be part or the driving force in the group. The theme is Ɛse Ne Tɛkrɛma, meaning Inter(activity) or Co-existence. It takes place from August 15 to August 19, 2018, as an extension to pan-African Emancipation Week.
We also welcome proposals from international artists in exile or those seeking asylum and can't travel. Your package will be acknowledged when received. Nkabom values diversity, all ethnicities and all abilities. 
Deadline: August 5th 
Please forward your bio/résumé, link/website, photo, jpeg images(visual arts) and workshop/talk concept(if that applies) to inkfluentgroup@gmail.com.
Social media: @nkabomfestival and @inkfluent on Twitter, @nkabomghana and @inkfluent on IG, Nkabom Literary Festival and Inkfluent on FB. #Nkabom2018 
En français
Le festival d'art littéraire Nkabom est un festival artistique pluridisciplinaire où l'art littéraire (toutes les langues) est au centre de ses préoccupations et qui vise à soutenir des communautés artistiques dynamiques et (accessibles). Nkabom produit et présente des idéologies de solidarité panafricaine avec l'Afrique et sa diaspora et soutient des représentations, expositions, installations, conférences et ateliers inclusifs, provocateurs, émouvants, éducatifs et divertissants.
Dans notre 3ème année, nous sommes en train de développer un festival de 5 jours et d'activer deux villes dans deux pays voisins: Accra, Ghana et Lomé, Togo. Nous appelons maintenant des écrivains, des influenceurs sociaux et des artistes pour Nkabom 2018,
Il peut s'agir d'écrivains, d'artistes ou de groupes de: écrivains, auteurs, illustrateurs, musiciens, groupes, danseurs, photographes, cinéastes, designers, artistes de performance, artistes de mots, poètes, codeurs, commissaires invités, artisans de mode, artistes sonores , graffeurs … ou surprenez-nous avec vos compétences classiques, traditionnelles, modernes ou contemporaines! Pour les groupes de performance, au moins une femme doit faire partie ou la force motrice du groupe. Le thème est Ɛse Ne Tɛkrɛma, qui signifie Inter (activité) ou Co-existence. Il se déroule du 15 août au 19 août 2018, dans le prolongement de la Semaine panafricaine de l'émancipation.
Nous accueillons également les propositions d'artistes internationaux en exil ou ceux qui demandent l'asile et ne peuvent pas voyager. Votre colis sera reconnu lors de sa réception. Nkabom valorise la diversité, toutes les ethnies et toutes les capacités.
Date limite: 5 août
Veuillez faire parvenir votre biographie / résumé, lien / site Web, photo, images jpeg (arts visuels) et concept d'atelier / discussion (le cas échéant) à inkfluentgroup@gmail.com.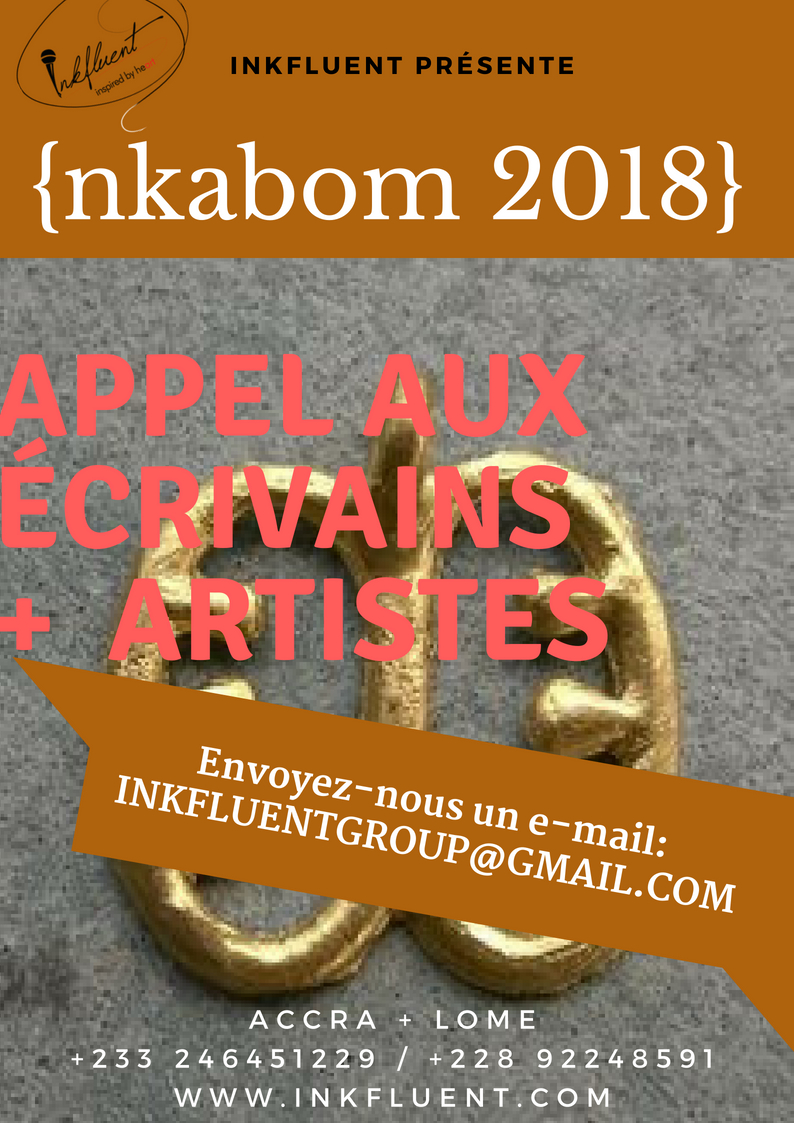 Médias sociaux: @nkabomfestival et @inkfluent sur Twitter, @nkabomghana et @inkfluent sur IG, Nkabom Literary Festival et Inkfluent sur FB. # Nkabom2018